Community First Responders (CFRs) are volunteers who are trained to respond to emergency calls in conjunction with their local ambulance service, in our case
South East Coast Ambulance Service NHS Foundation Trust
As the CFRs respond in a local area (5-7 miles) from where they live and/or work, they are able to attend the scene of an emergency within a few minutes and often before frontline colleagues arrive. This means they are able to offer potential lifesaving treatment in the first few minutes of an incident, therefore further increasing the patient's chance of survival.
What commitment does a CFR need to give?
The role is entirely voluntary, although you are reimbursed for any mileage. There is a requirement for a minimum of 4hrs on-call each week, although we find that many of our CFRs frequently are on-call for more than 100hrs per month. One of our CFRs recorded just under 1,900hrs on-call in a single year.
How are CFRs dispatched and do they have to attend every call?
CFRs are dispatched by the Emergency Operations Centre (EOC), which for the Crowborough area is the Coxheath EOC. On completion of training, each CFR is issued with a mobile phone (and/or Airwave) by SECAmb. The phone is linked to SECAmb's CAD (Computer Aided Dispatch) system and in the EOC is a desk dedicated to the dispatch of CFRs. When a 999 call is received, if appropriate and within reasonable range of a CFR who is on duty, then at the same time an ambulance is dispatched, a CFR will also be dispatched as long as it is safe to do so. It is then up to the CFR if they wish to attend, and if so, they will send a coded text message back to the system. If the CFR for whatever reason decides based on the information received they do not wish to attend, there is absolutely no obligation.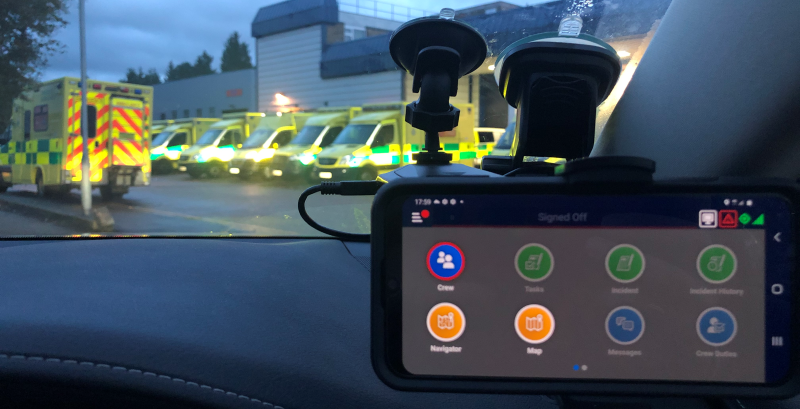 CFRs in more rural locations, such as our area, covering Crowborough, Rotherfield, Wadhurst and Withyham, often have dispatch equipment that allows us to be tracked and therefore be booked on wherever we may be
What type of incidents do CFRs primarily attend?
The types of incidents our CFRs attend may range from cardiac arrest, respiratory arrest, collapse due to medical complications, allergic reactions and other non-trauma cases in the home or workplace.
SECAmb currently has more than 400 CFRs spread across Kent, Surrey, Sussex and North East Hampshire. CFRs across the Trust attend roughly 20,000 emergency calls per year of which more than 10,000 are categorised as life-threatening, including around 1,000 cardiac/respiratory arrest calls
If you think being a CFR in Crowborough or surroung area is something you would like to give times towards, please use our recruitment form by clicking here
For other areas please search on the NHS Jobs website
The application process involves selection interviews and the screening process requires a Disclosure & Barring Service Check (DBS), professional references and health clearance. All the training that is required is provided to you and covers the Community First Responder scope of practice, with yearly recurrent training including topics such as Infection Prevention & Control, Safeguarding, Information Governance as well as a practical recertification of skills. It is a challenging but very rewarding role and you will be supported in every step of the process.
More information can be found and downloaded here:
An ambulance is ALWAYS dispatched to any incident being attended
to by a CFR – We are not a substitute to the ambulance service