We are so pleased to announce that Nicki completed the
2019 London Marathon with a time of 05:16 raising a total of
£1,828.26
Thanks to your donations and support, the total raised to date, meant that when Nicki crossed the start line, she knew she had achieved sufficient to deploy another Public Access Defibrillator for the town – an amazing achievement!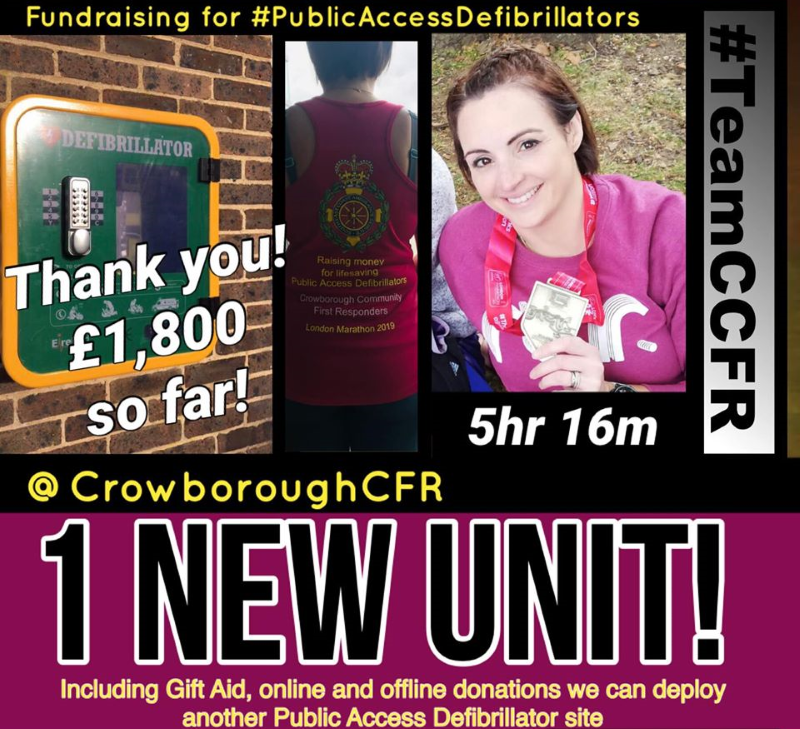 Why I have chosen to run for Crowborough CFRs:
I started my nursing career 10 years ago.
Since then I have been passionate about patient care and education with a special interest in women's health. I decided on a nightshift that I wanted to do more so I applied to be a Community First Responder (CFR) in my local community.
Fast forward 3 years and I'm co-leading the Crowborough CFR team.
We are a voluntary service within South East Coast Ambulance Service and are dispatched to life threatening calls.
Over the years I have been involved with a number of the highest priority calls, cardiac arrests – some were successful whilst some were unfortunately not.
To be there with someone, family members or close loved ones is a privilege when they are going through a traumatic experience, to be a calm hand in a chaotic moment.
As CFR's we also strive to educate the public in first aid, teaching CPR and other lifesaving skills. As a charity we are self-funded and rely on donations to ensure we continue to attend the community both in time of needs, and in awareness sessions to educate.
It is for this reason I am running. I am running for all the people we have sadly lost, and all the people we continue to serve, who may one day have the need to call 999